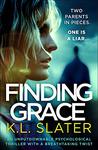 Finding Grace
by
K.L. Slater
My rating:
4 of 5 stars
There has been so many books flooding the "child missing" book market that I second guessed whether to read this or not.
But how could I pass this by. I reasoned with myself that this book was written by KL Slater whose books I've always enjoyed. Could I pass this one by without at least giving it a "go"?
I couldn't.
I am so glad I read this as the book has so much to offer than a topic plot that's been hashed to death over the last year or so.
This is so much more than Grace goes missing.
We all have to learn to allow our children to grow in confidence and independence.
We can't 'baby' our children forever.
But was it too early to allow a nine year old girl to walk just a short distance down to her friends house?
Her father watched her go. The girls father the other end watched her arrive. Both doing this secretly
so that Grace wouldn't know. But on her way back she never returns.
It's not just based on the disappearance of Grace though and I was soon to find out more about Lucie the mom. The dad. Lucies friend Bev and her husband down the road.
There were many puzzling factors that kept me turning pages.
The dark side was brilliant! I loved this......a lot!
View all my reviews